Hiring the RIGHT Electrician
Hiring the right electrician for your project is a critical decision. Many "electricians" out there aren't electricians at all. They do not have the proper training, license or insurance to do the job correctly and safely. They don't tell you any of this… they simply camouflage themselves in with the good guys. We will help you to ask the right questions to ensure you are hiring a qualified electrician.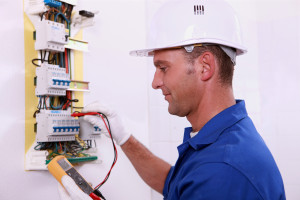 Check the license – Never hire an unlicensed contractor or electrician in any capacity. Their price will surely be lower than the fully licensed professional, but the end result may end up costing you more. Unlicensed contractors are not bonded and have not taken any kind of exam to be assured they have the knowledge to perform the type of work you may need done. Also, it is very unlikely they have liability insurance.
Check for insurance coverage – By law, licensed electrical contractors will have liability insurance coverage. Texas requires a minimum of $300,000 coverage but many carry a $1 million plan. Ask your contractor if they have a COI – a Certificate of Insurance. If they are properly covered, they should have no problem providing this for you.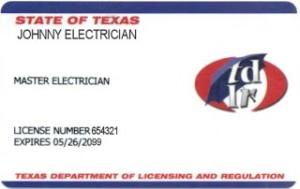 Ask for a Journeyman card for proof of license – Ask to see the card of anyone performing electrical work on your home or business. This is very important and makes sure you have qualified workers.  Your persons and property are at risk if they are unlicensed. There are two types of licenses that a qualified electrician may have:
Master Electrician: Has passed a standardized test and has at least two years of experience under his belt. He knows the National Electrical Code and any modifications that your state has made to it. He is qualified to plan, design, install and maintain an electrical system for your project.
Journeyman Electrician: Hasn't qualified for a master's license, but he too is licensed by the state. (Some states require journeymen electricians to work with a master electrician.) By law, he cannot design systems but can install wiring and equipment.
Ask what kind of work the electrician has done in the past – It is usually a pretty good indication of what you should expect in the future. Many electricians work in both residential and commercial, but many of them specialize in one or the other. If you are a business and want an experienced commercial or industrial electrician, look for someone with these credentials. Electricians who work for commercial/industrial companies are required to carry higher insurance coverage; therefore, you would want to ensure your contractor is properly covered. Also, ask for references from your prospective hire.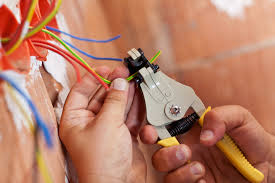 What is the electrician's real concern as you speak with them about your project – Are they concerned about what you are trying to accomplish on your project? Are they up front and confident about pricing? Do they care about your needs and the needs of your property?