Outdoor Lighting for Commercial Properties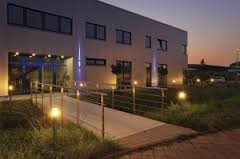 Outdoor lighting for commercial properties not only gives an aesthetically pleasing look to the building, it also provides a very important safety feature. Outdoor lights help protect your business by keeping it well lit at night and by providing a safely lit area for employees and customers to navigate the property. What areas do you need to consider when adding lighting? Let's take a look at some of the important areas of your business property…
Where to add lighting?
Parking Lot – you will need to ensure your parking lot is well lit. For your employees and your customers, a well-lit parking lot is a must. You will want to ensure that you do not have any dark areas in your parking lot. Plan with your electrician to install enough pole lights in the parking area to provide an inviting and safe area to park.
Walkways – You want a clearly lit walkway showing where to walk from the parking lot to the entrance of your building. If your employees leave or enter in the dark, it is imperative that they walkway is safely lit.
Steps – For safety reasons, steps need to be very clearly lit. This can be a hazard that can be managed easily with good lighting.
Exterior Doors – All exteriors doors should be well lit, this will help with the security of your building as well as the safety of the the employees and customers.
Landscaping – To add appeal to your building, add lighting to the landscaping around your property. This is a very nice look that softens the appeal of the property.
Walls – An optional lighting is to add some lights that cast up onto the exterior walls of the building.  If this is conducive for your building, this is a very nice look. There are other options that you could plan with your electrician to fit your personal style and property.
Types of Outdoor Lighting:
Outdoor Lighting fixtures will be categorized according to the location where it can be installed or its function which make it suitable to this location as follows:
Floodlight
Sports Lighting
Street and Roadway
Pathway
Parking Lot and Garage
Security
Landscape
Signage